You know at times you yearn to watch chefs cook right infront of you, but the 'live' enjoyment ironically transforms into sheer horror?
This is

Teppanyaki

- it could backfire.
Like picturing stern men-in-white psychotically splashing oil all over their workpieces (thats going to end up in your plate in a matter of minutes), schemed to set your tummy into raging flames moments later.
I'm beggining to develop a

teppanyaki-phobia.
Months back i had an oil-overdose dinner at Inagiku, which left me heading to the doctor's straight after. That was a hefty nightmare i would never forget, and would certainly deter any repetition of.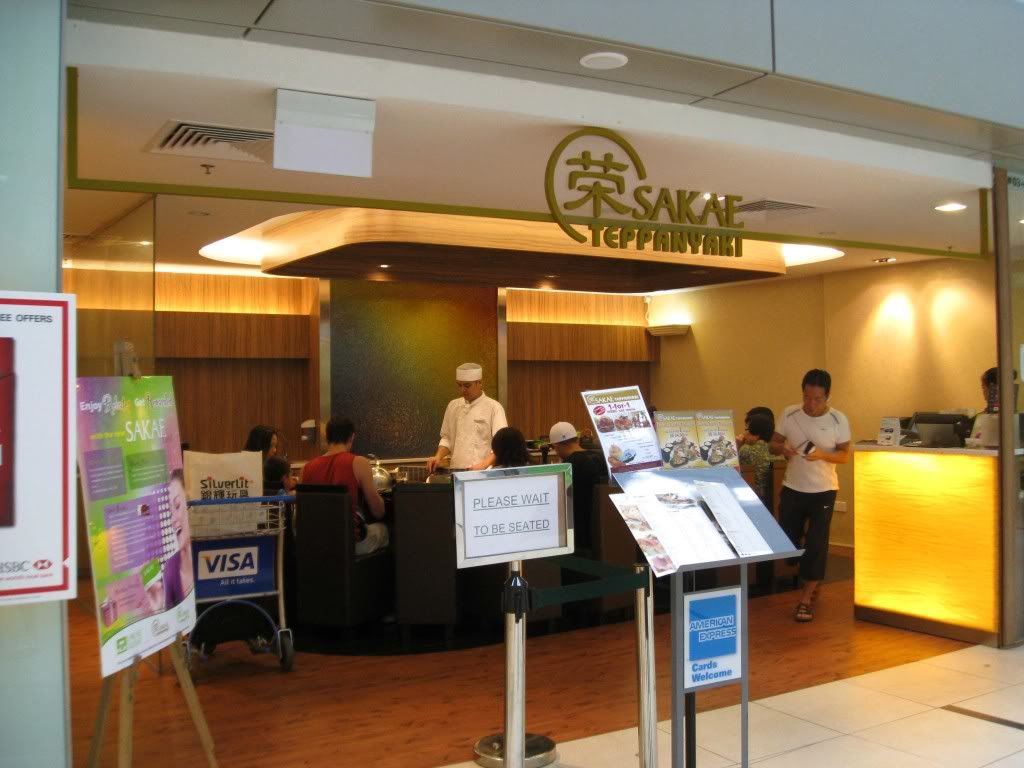 So as we stepped into T3's Sakae Teppanyaki for a swift lunch (while we wait for Mum's flight), i stepped in with extra caution.
Seafood Set

($13.99)

each for all of us.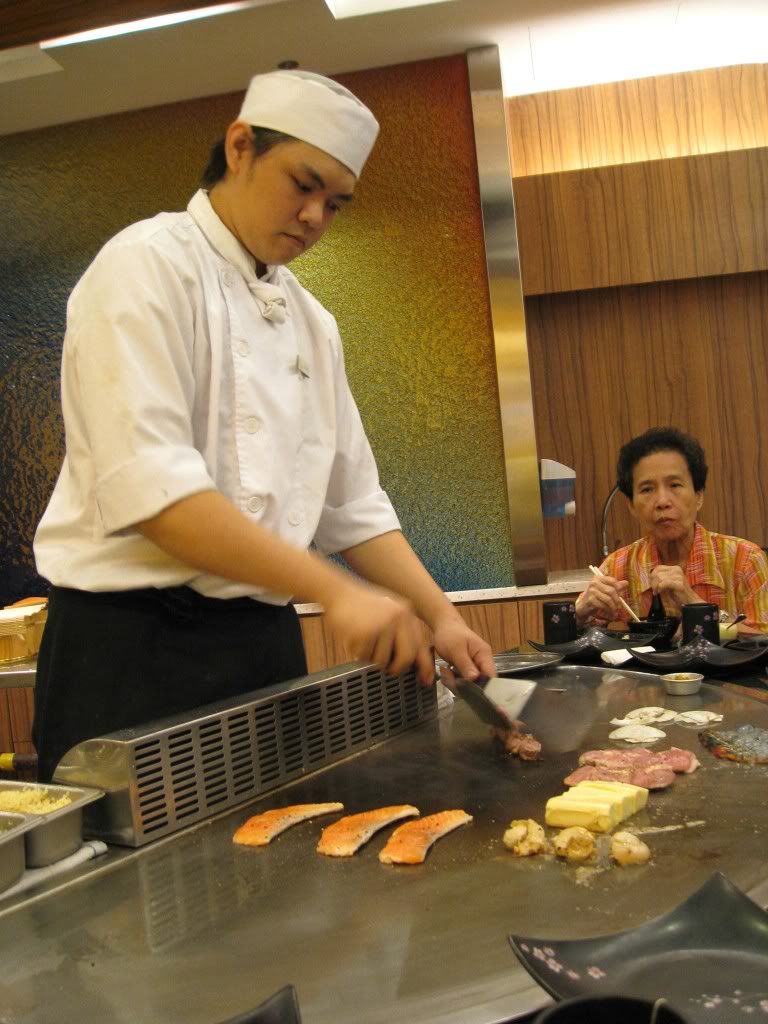 I instantly spotted a tub of butter beside the working pan and thought i'd better warned the chef to go easy. He nodded as we instructed "no butter for one of the seafood sets" and the next thing i knew, he went segregating one portion to down it in OIL.
I was about to scream, but i'll definitely control myself infront of my most respected profession. Basic respect. I slowly worked on my dishes.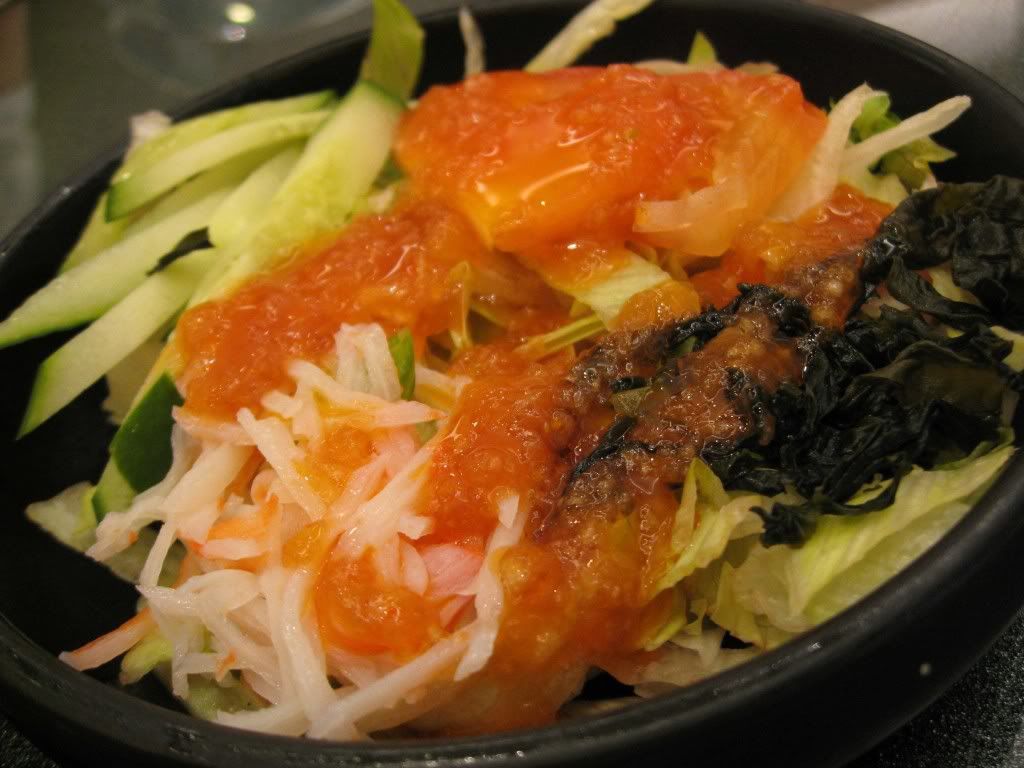 Kani Salad
Oh salads come in the nick of time to cleanse before you meet the grease. I enjoyed this one with fine kani shreds and a thai-inspired dressing.
Salmon Fillet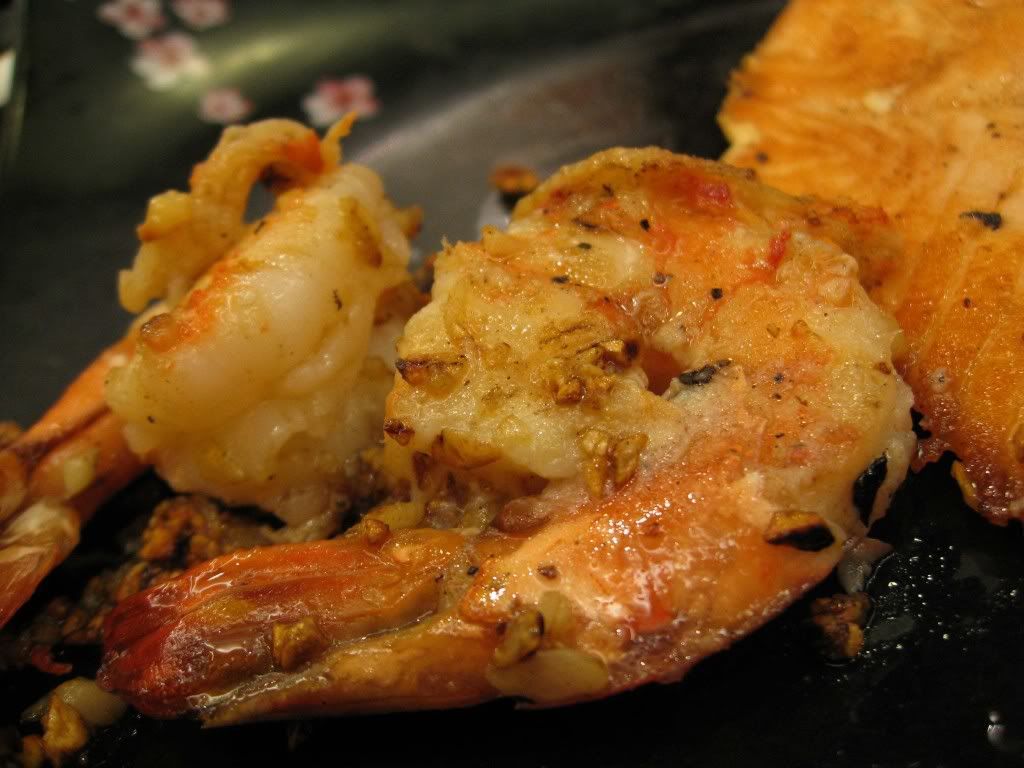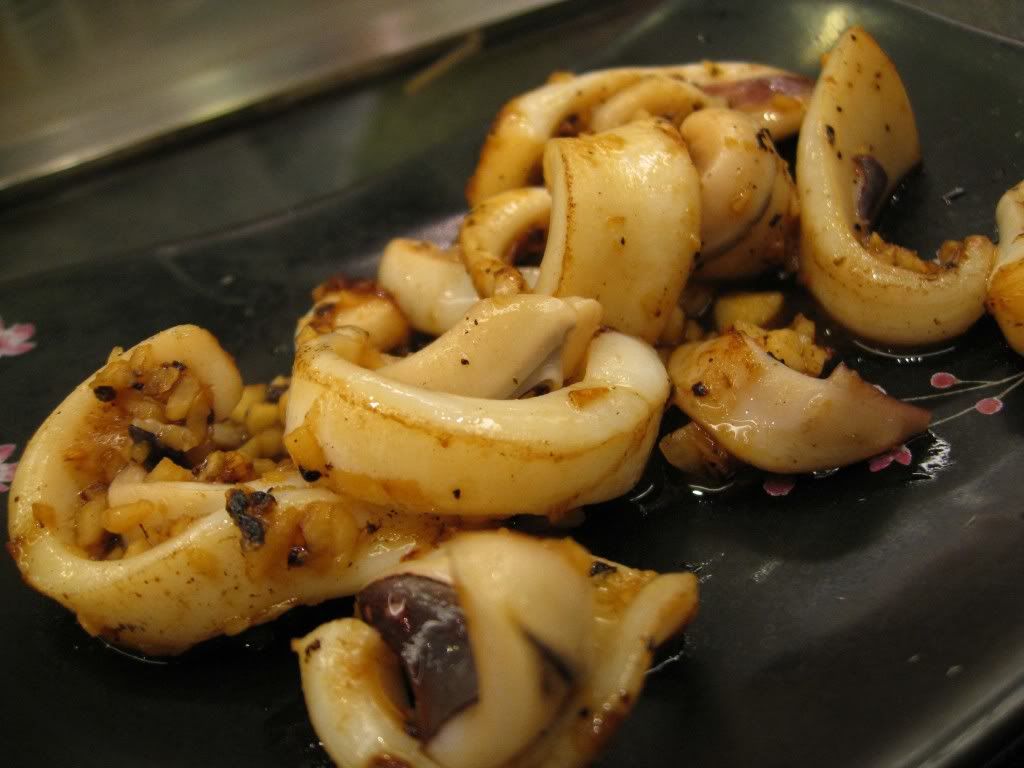 Garlic Squid
Prawns are the better ones here with a good dose of garlic added to every portion. The squids lacked elastical resistivity and the salmon too flat.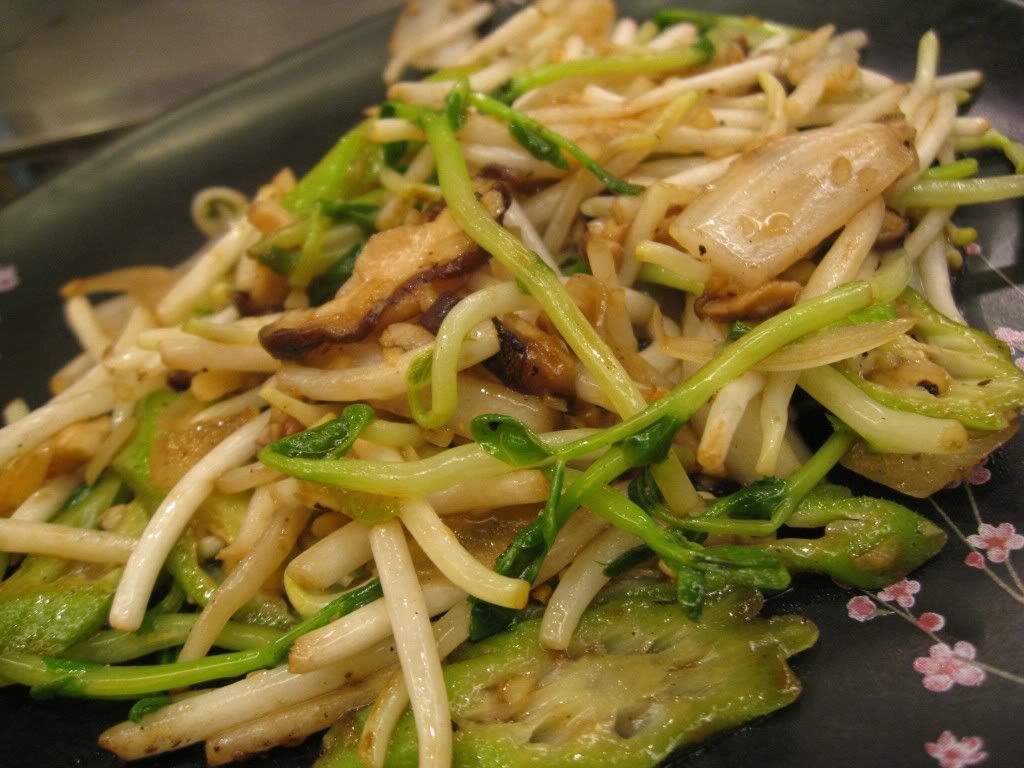 Seasonal Vegetables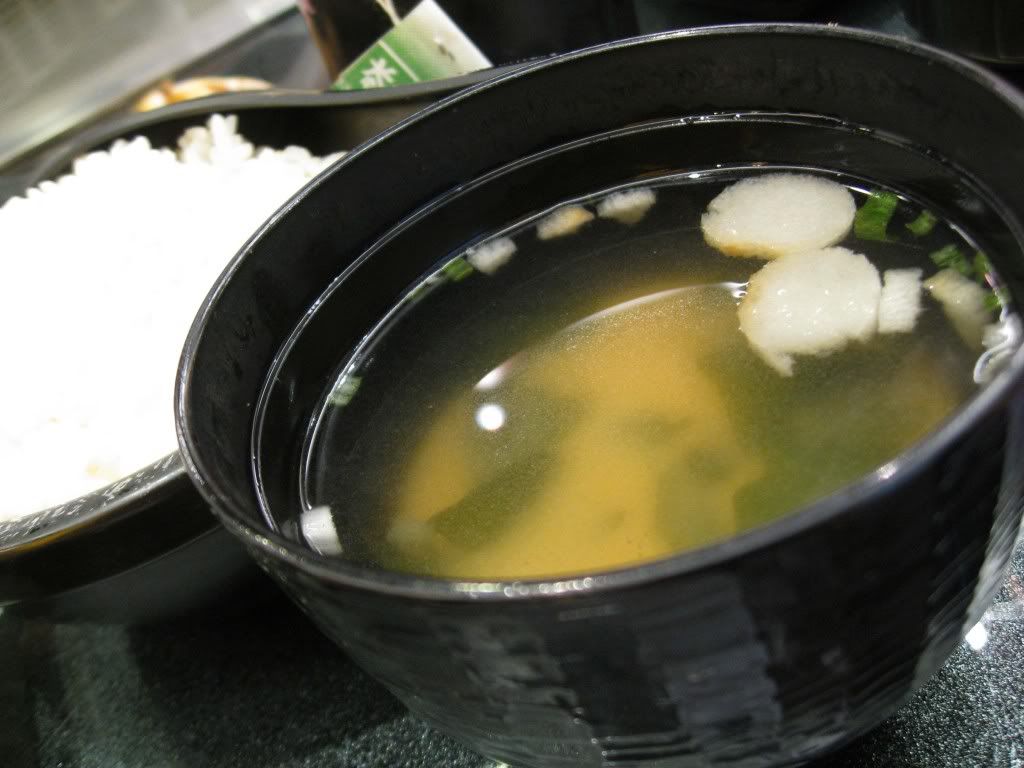 Unwilling to leave dissatisfied, i decided to order a dish my neighbour across seems to be enjoying.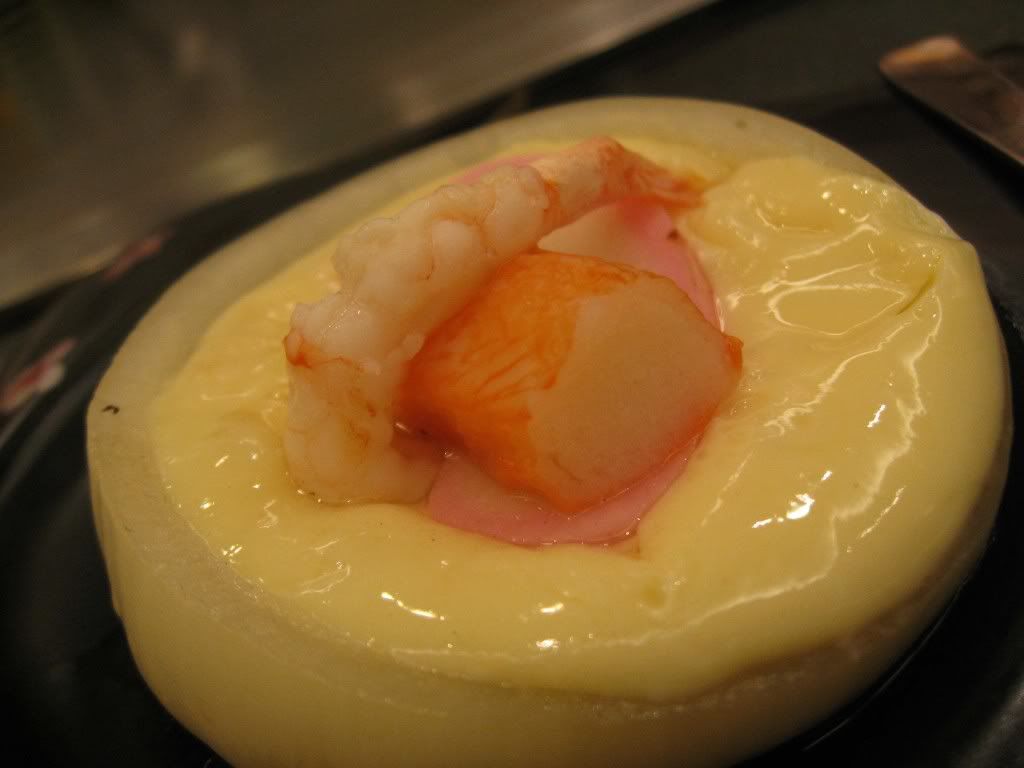 Seafood Chawanmushi ($3.90)
Ta-dah this was it! Indeed the Seafood Chawanmushi deserved special mention. The process of making was an eye-opener, the result.. smooth wobbly egg custard ensconced in its personal onion wall. Served right off that teppan pan.
Scoop of Chocolate Icecream
We did not leave with mouths full of grease. They had it washed down by a scoop of chocolate icecream, on the house.
I know i know, teppanyaki without oil is ridiculous to ask for, but overdoing the grease seems to be the common thing now. Drowning food in oil is NOT an ethical way to flavour the diner's palate, i feel. Especially for weak-stomach consumers like me ):
Teppanyaki may be for you, but teppanyaki is just not meant for me.
Nevertheless, if you want a decent teppan meal with 'live'-witnessing coverage, Sakae Teppanyaki will not burn a hole in your pocket.
Sakae Teppanyaki (Airport)
#03-43/44 Changi Airport Terminal 3