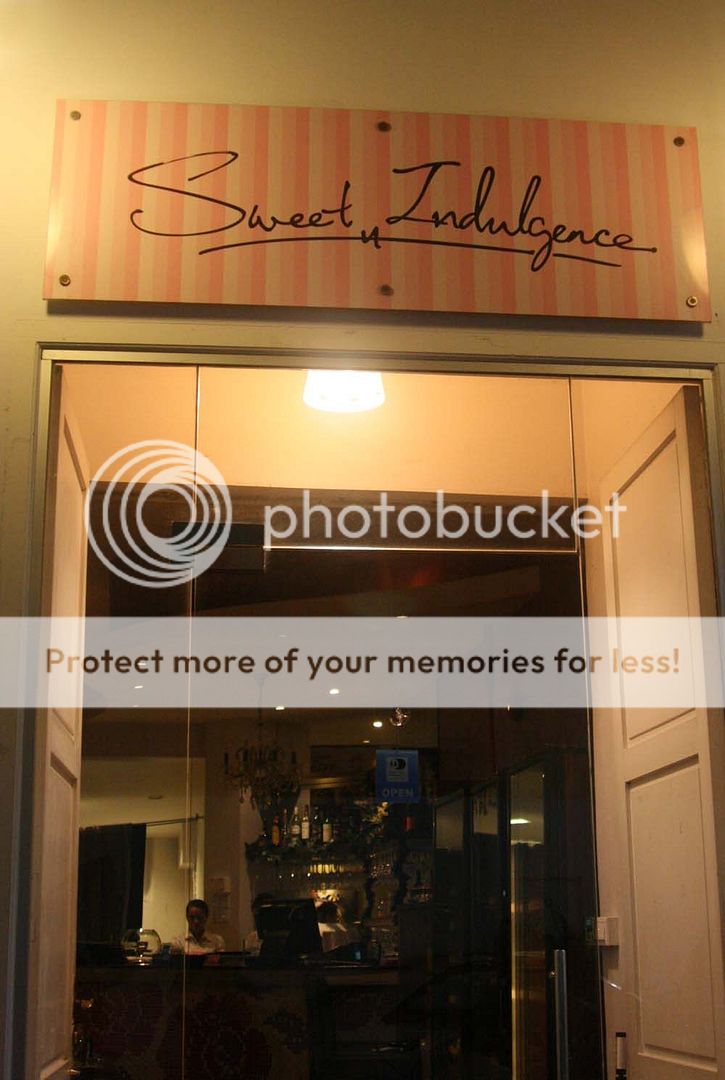 Pink, sweet, girly. Charming things.
Sweet Indulgence is all about title-appeal. To begin, a name that sounds good enough to bite. To end, glamoury descriptions and discerning prices which may not permanently please.
i admit my mixed feelings about this place.


A close friend's insistence set me on a swift street-navigating around Tanjong Pagar. We arrived, number ones. With proud illusions of booking the entire small-scale restaurant for at least the first half an hour.

Complimentary Foccacia

And the dinner began well. Blocks of foccacia bread, warm and soft like how i would imagine them to be. The complimentary pizza was all thats hampering me from accepting a second helping.



Seafood Platter ($18.80)
The awesomeness continued. we were both taken in by the seafood platter's array of fresh variety sauteed in its sweetish white wine stock. liked the crystal prawns, albeit tiny, but felt the scallop flesh was way too XXS in size.



Chicken & Mushroom Pizza
($17.80, complimentary w every 2 main courses ordered)

And more.
I was still slurping the platter's wine reduction when my friend's sudden "OMG" grabbed my attention.... "the pizza is sooo good".
Nods my head in agreement. Sweet Indulgence's chicken and mushroom pizza honestly sat chunks of chicken, juicy white button mushrooms, onions, roasted green peppers & fresh cheese on a pizza base so optimally rolled out. There's this charred fragrance about its crust that gets me going.
takeaway-whatever's-left-behind policy holds.
Baked Salmon Fillet ($24.80)
One step back. the

baked salmon fillet

was pan-seared, and almost dried up of the herb butter sauce at consumption midpoint.
Chilean Black Cod ($32.80)
Two steps back. heavily flouring the

chilean black cod

and coating it with a gimmicky homemade lobster jus performs no justice to the prestigious specie, and its extortionate pricetag. The nuttily-dressed salad was more brilliant than that.
Warm Chocolate Lava Indulgence ($10.80)
Warm Chocolate Lava Indulgence.

The chocoholics wouldn't miss out on this people-see-people-like hotshot. decent rendition, minus the burnt base, for any trace of molten dark cocoa lava and a non-magnolia/marigold/kings scoop of vanilla darling seals the lips.
I love stuffs pink, sweet & girly.
But a pity, the sweets don't tie with full agreement.
PS. envying their 19-year-old dessert chef!
Sweet Indulgence
2 Stanley Street
6223 7707