Big O has never struck to me as a big deal, and definitely not somewhere i'll target for tea time. Not until i heard about a high tea deal from Sarah.
$6.95 tea set.
Not that i know of.. not that they advertised.
Or at least even listed somewhere.
No. It was like this deep dark secret that would kill the restaurant's profit charts as much as it was revealed. When we visited to double-confirm, we couldn't even find any hint on the erasable message board, not to mention the menu.
Only the staff gave a slight nod when i checked with him.
so i'll announce it Big & Loud...
its

$6.95++

for

any slice of cake

off the shelve and

a single

coffee/tea

. not just the usual house coffee/tea, it is

(of)

your choice

of coffee/tea from their menu. 3pm to 5pm WEEKDAYS only. go tell everybody.
Happy pick:

Vanilla Sencha

.
A lovely blend of green tea leaves and buttery vanilla.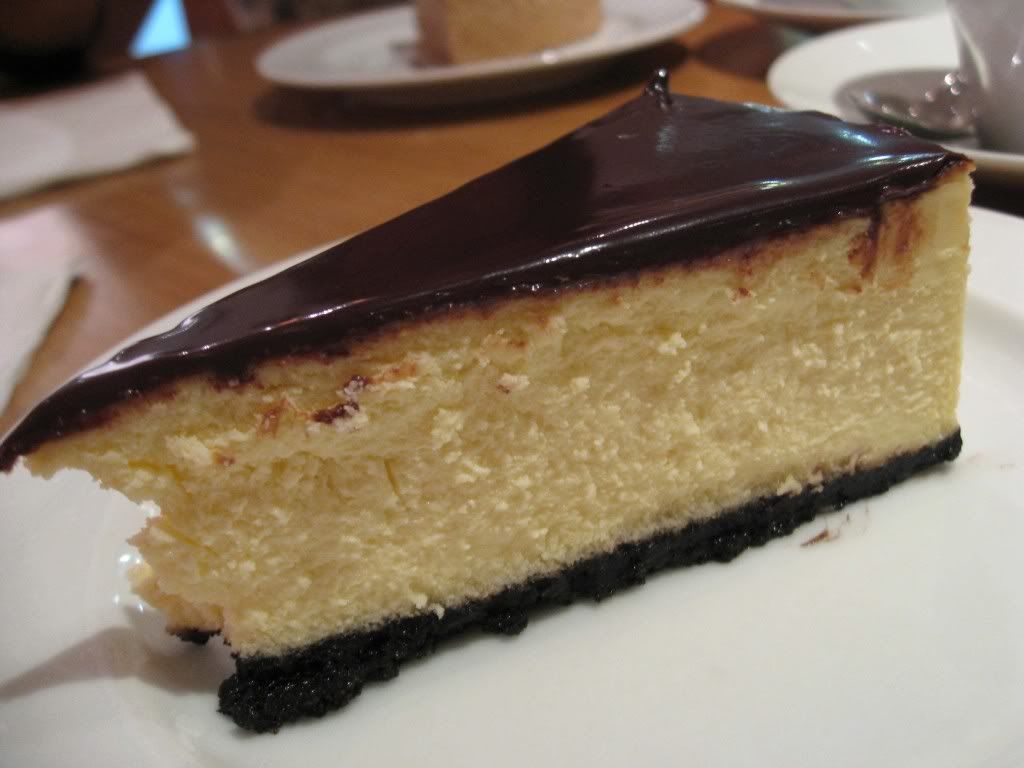 Bailey's Cheesecake
I had been eyeing the

Bailey's Cheesecake

from arrival to entrance. Sleek, light and elagant... nothing short of the fair lady material. Miss Bailey's had an alluring crown of smooth glossy fudge (for chocoholics) and a tiny smack of Irish Cream (for alcoholics)- worth an ooh and a wow.
Anything with Bailey's thrills me.
Just like how the Mocha-mechanics can thrill Sarah.
Mochaccino Cheesecake
Mochaccino+

Iced Mocha

= full caffeine intesity. I could tell how much a coffee-lover she was. I'd figured the Mochaccino Cheesecake was probably a mocha and cuppuccino marriage, very ideal fix for the expresso fans.
Iced Mocha
Average service didn't deserve much praise, but i could leave with a wide smile after that Bailey's uplift.
And the contentment of finally being part of the "Big secret club". hah.