I chanced upon reviews of the newly opened Caffé Cova and knew i had to come. Hailing from Milan, this original Cova Pasticceria-Confetteria brought in by the Wing Tai group now replaces the Dome Cafe in swanky Paragon. Outside of Italy, Cova can only be found in Japan, Hong Kong and on some luxury American cruise ships.
The area outside for main food was full so we settled in the tearoom for light snacks. I liked what i saw... elegant decor, tables lined with table-cloth, fine silverware and a
delectable range of pastries- all enough to score full appeal.
display of cakes & pastries
The waitstaffs smartly dressed in vests and bow-ties appreciatively completes the look of an decadent era, but the service was found to be severely lacking.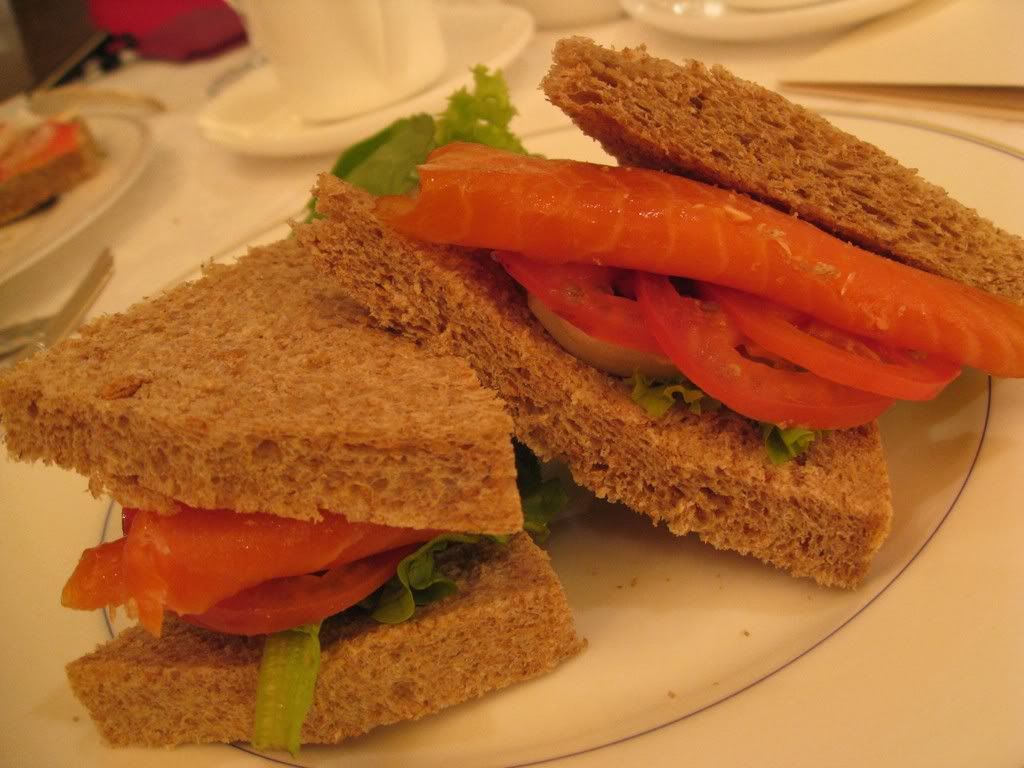 Salmone Pane Integrale ($14)
My next let-down was how their sandwiches came cold off the refrigerator display. I'm guessing they have all been premade in the morning for the convenience of freeing the chefs to devote to lunch service. This is bad for diners with special requests like me, who would either have to endure a long wait or accept those stale and insincere slabs from the fridge.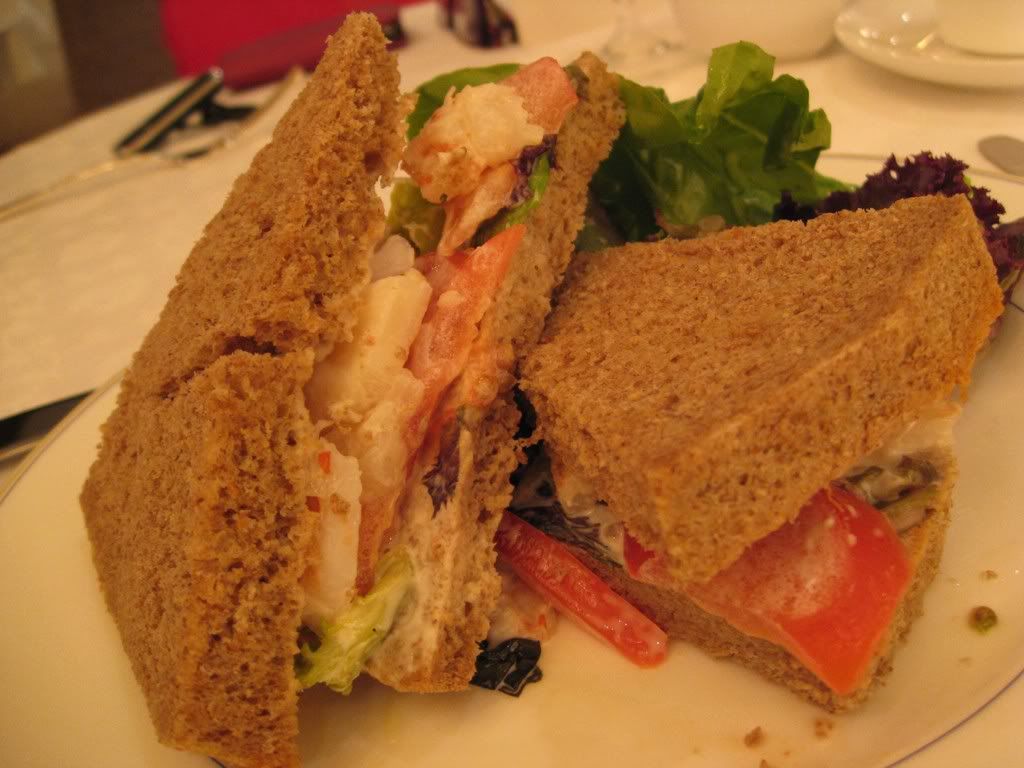 Gamberi Pane Integrale ($14)
I decided to take up the first choice, which was only attended to after i started to express my dissatisfaction. The

Salmone Pane Integrale

arriving after 15 minutes featured nothing more than lettuce, tomatoes and smoked salmon between dry brown wheat bread- but at least it was assembled fresh on order. Dad's regular order of

Gamberi Pane Integrale

saw a different fate as the bread was obviously
bound to be sogged by the mayonnaise.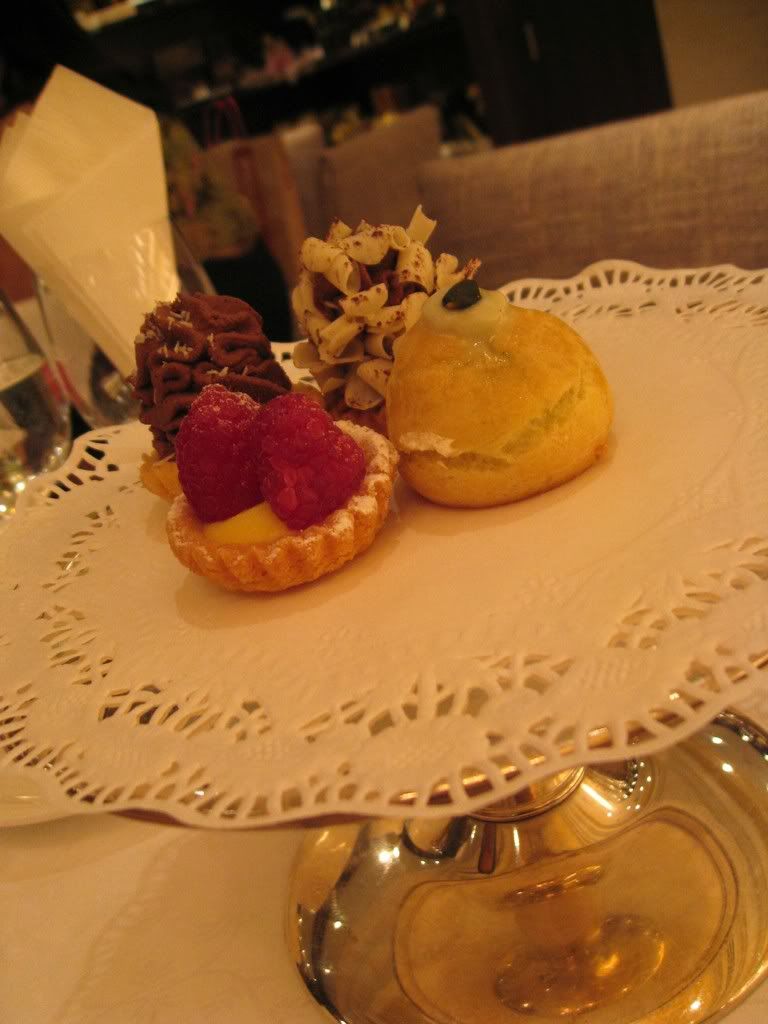 Selection of 4 Pastries ($9)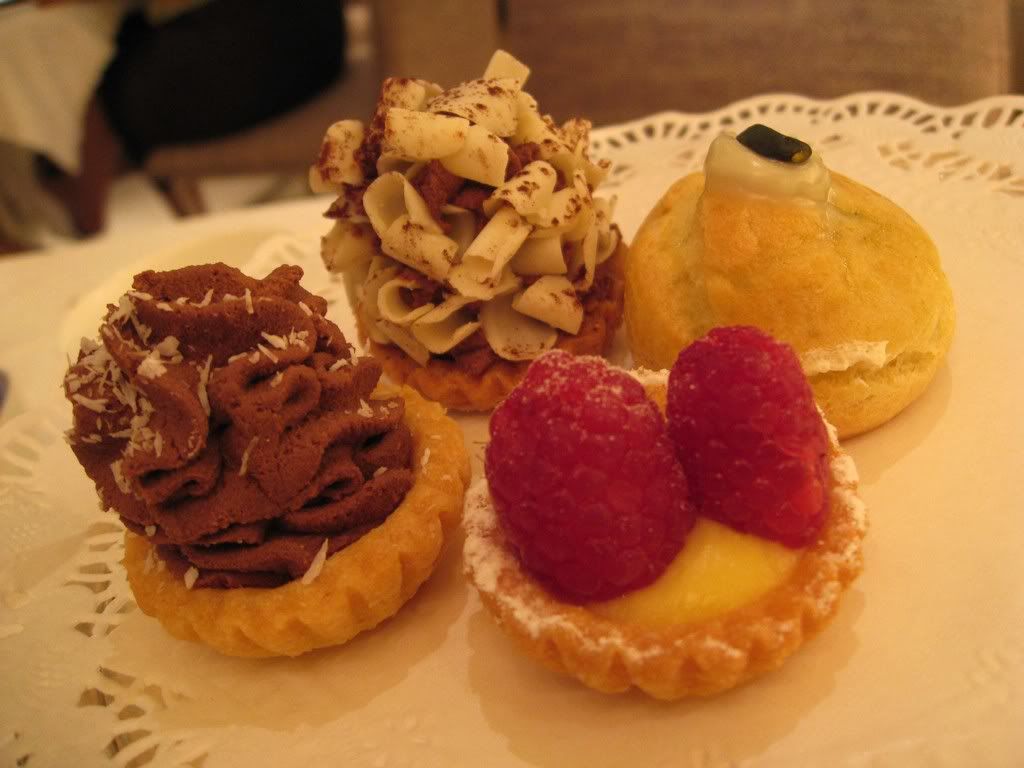 And then we t
hought desserts could be their saving grace. The four petite nibbles i picked- (clockwise from far left)

Mini Chocolate Coconut Tart, Mini Chocolate Raspberry Tart, Pistachio Bigne, Raspberry Tart

set on a large metal stand only looked smaller than they originally were. To be positive, they were catering for easy eating; to be negative they were purely exploiting with that hefty pricetag.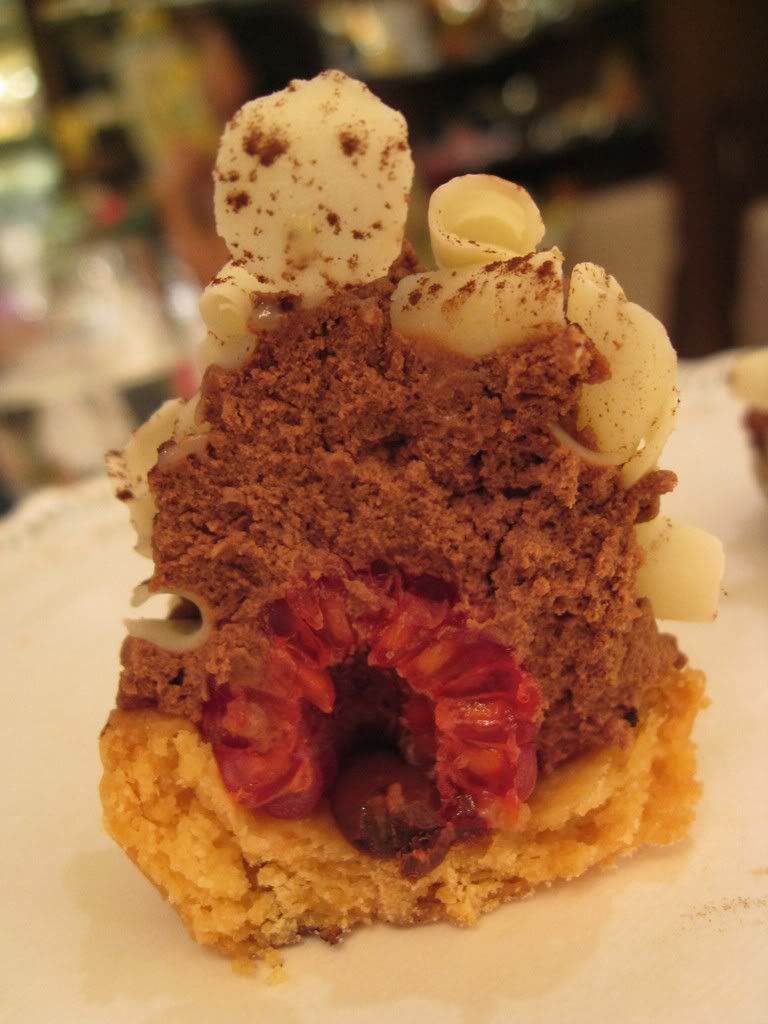 Innards of Chocolate Raspberry Tart
I particularly preferred the pistachio bigne oozing with intense molten pistachio cream and that simple tartlet sitting two fresh raspberries. The chocolate raspberry tart too had a inner surprise, while the tart bases were mentionable.
This place is clearly not cheap to dine in and they failed to show the diners the value in paying that top dollar. What turned out were small portions of sandwiches and rather ordinary pastries with an unacceptable service.
Caffé Cova
#01-20A Paragon Shopping Centre