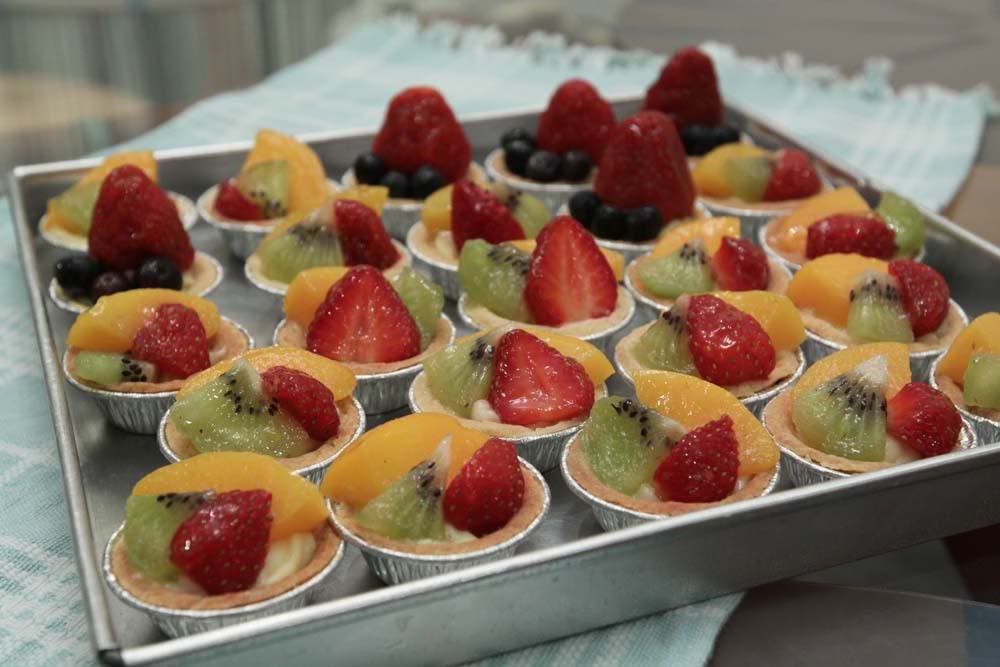 I took the chance to surprise my sister's friends with a mini dessert tasting session during their party at our place. Felt it was high time i announced the opening of my 3-tier stand, which have been neglected in the storecupboard for months.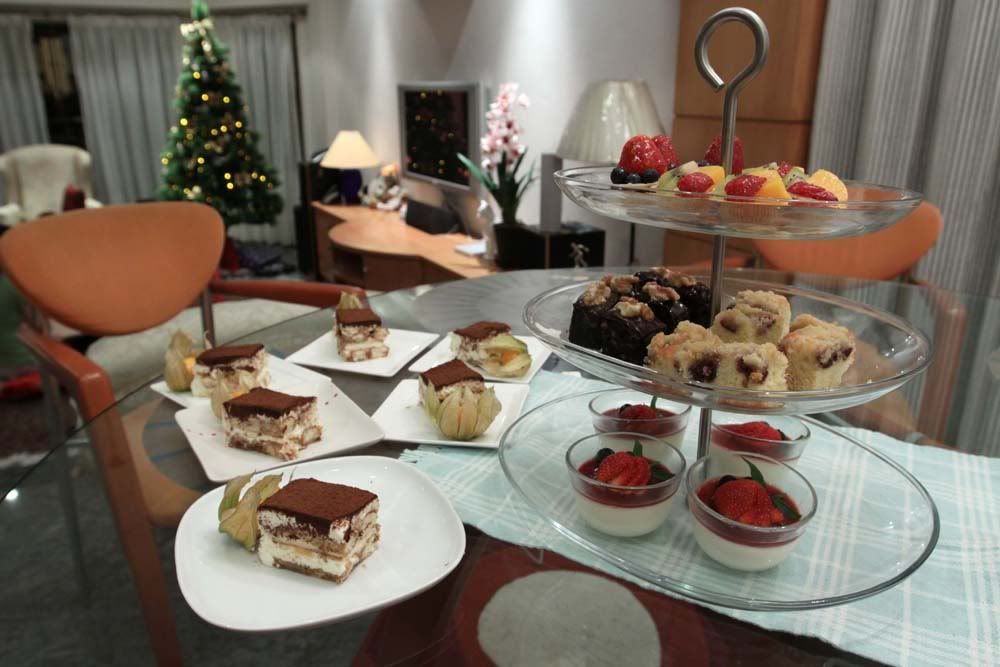 This was definitely a proud purchase. For a long time i've been eyeing on a particular 3-tier stand from Zone, really elegant-looking, yet tagged with a price too hefty to consider. Not until a trip to IKEA one day, this one appeared as an absolute steal! Resistance would have been an infelicity.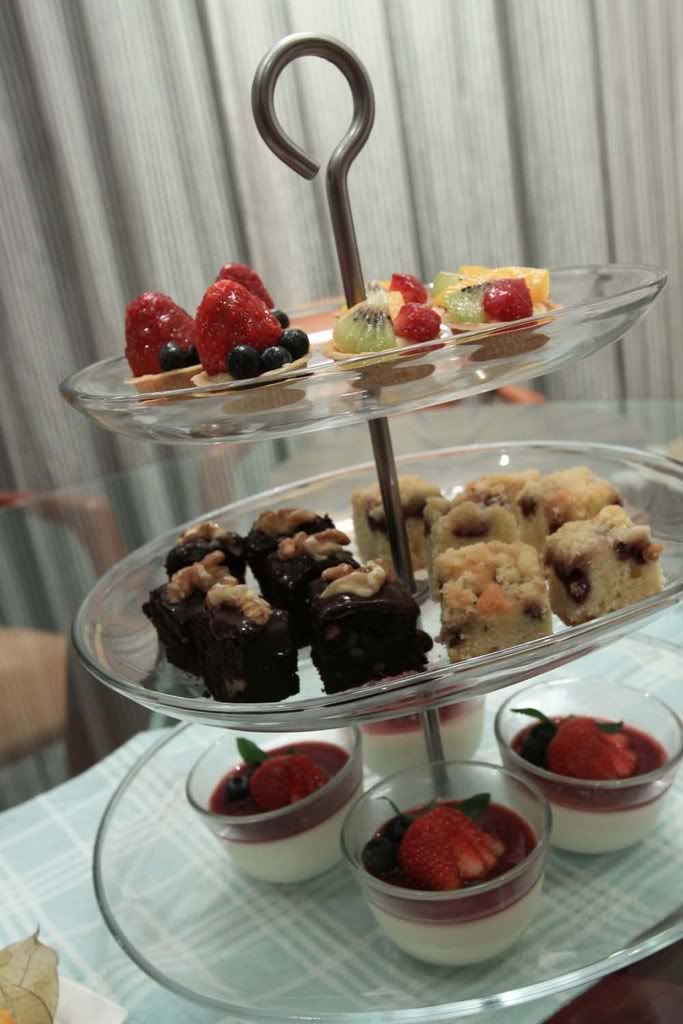 Mini Fruit Tartlets dominated the upper tier. An assortment of glazed berries and fruits adorned the petite tart shells, filled with thick vanilla custard.

Taking the centre stage was a duo of black & white. I frosted the Chocolate Walnut Brownie Bites with a glossy dark chocolate fudge to enrich the cocoa rush. And then paired a milder Raspberry Crumble Cake, buttery and tangy, to neutralize the cocoa richness.

Down at the bottom, glasses of Vanilla Panna Cotta Cups took shelter. The cream custard's extremely soft and fragile, topped with homemade raspberry coulis and berry garnishes.I would be improvising and improving on this one, as this is my first attempt.


Individual slices of

Bailey's Tiramisu

come sponge-spiked with my favourite liqeour. An eggless version, very much lighter than the commercial ones, made to my preference. Slovenly garnished with an untidy gooseberry, hah.

I stood around to introduce the petites and gather feedback from the all-girl group. Fortunately, comments were on the positive side, and i'm so relieved that they enjoyed the desserts.

My 3-tier stand made its second appearance.
Apart from the familiar repeats (Raspberry Cumble Cake and Fruit Tartlets), i baked

Disney Butter Cookies

upon Mum's request. I am suprised by how a hit they were, as three rounds of refills were all cleared up. Disney faces can sure do wonders! lol.
regular fruit tartlets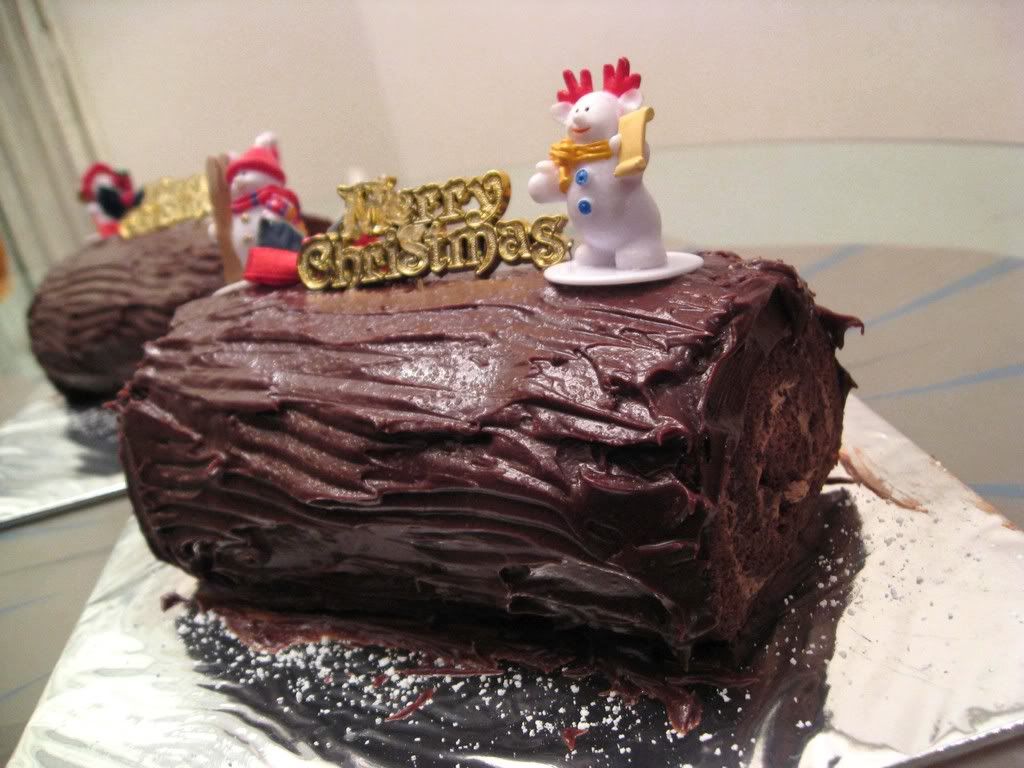 I haven't been into logcakes research yet but I decided to give

Chocolate Logcakes

a try this year. Nothing elaborate here.. simply sandwiched chocolate buttercream in a chocolate swiss roll, and then unsystematically coated it with a milk chocolate frosting to make it resemble a log. Definitely chocolately and oops, frosting's too sweet.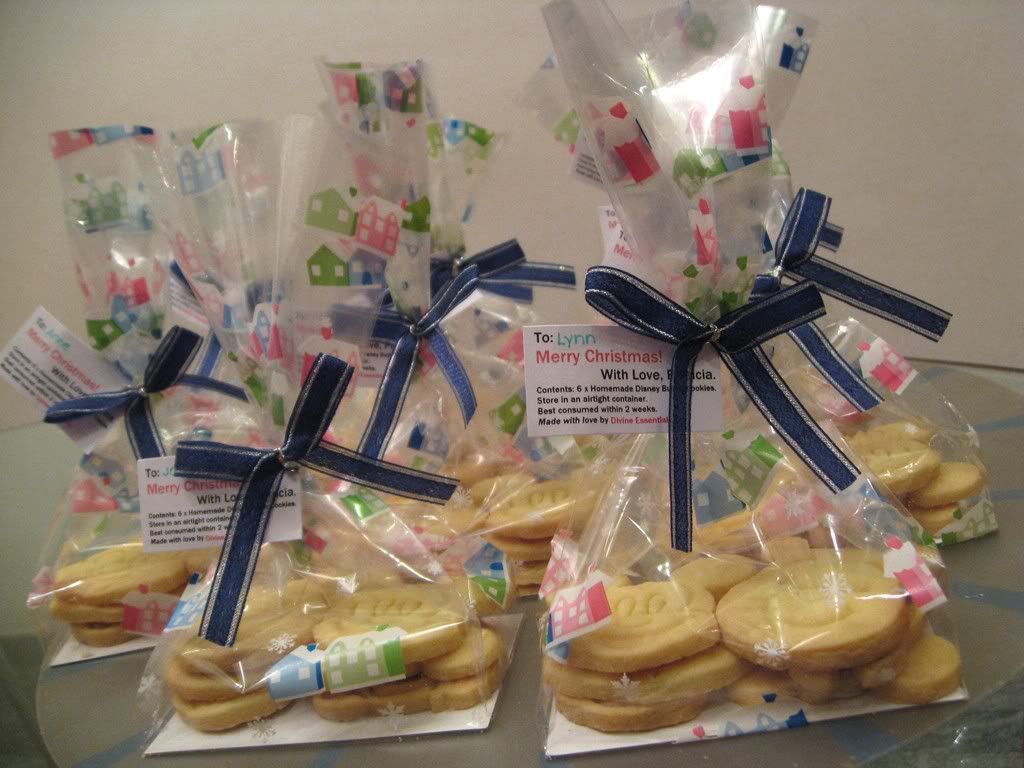 My first official business deal! Mum placed an order of about 200+ disney cookies as christmas gifts for her colleagues, complete with packaging and labels. Good thing they have a longer shelf-life, so i was able to rush them out earlier in the week. Was a hectic bake-day for me.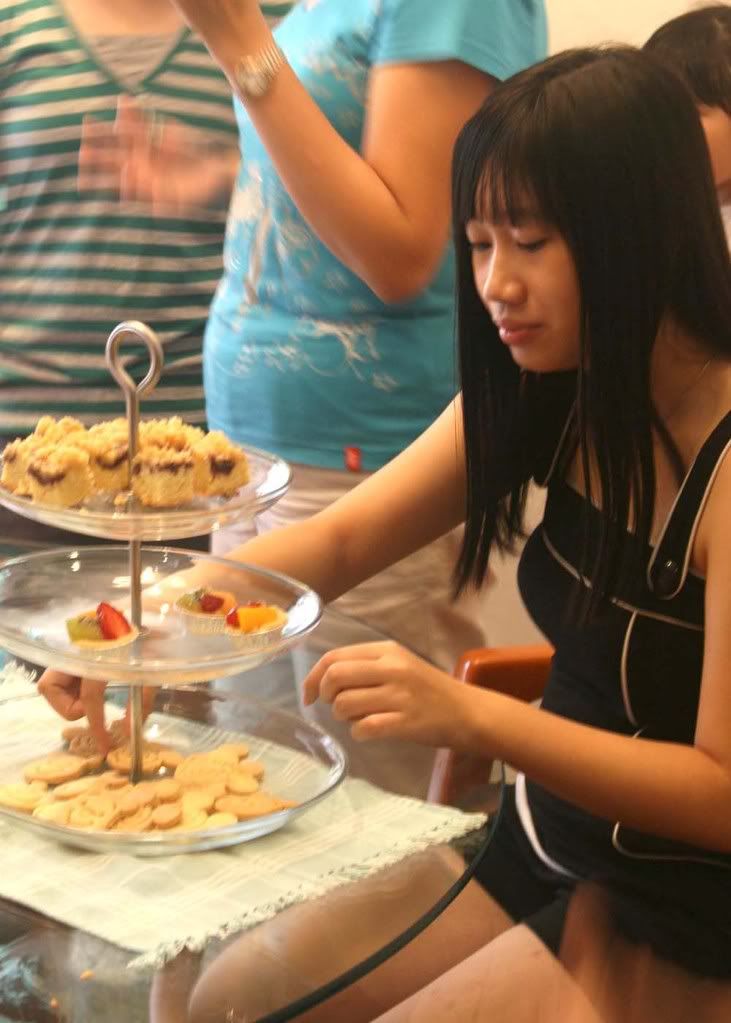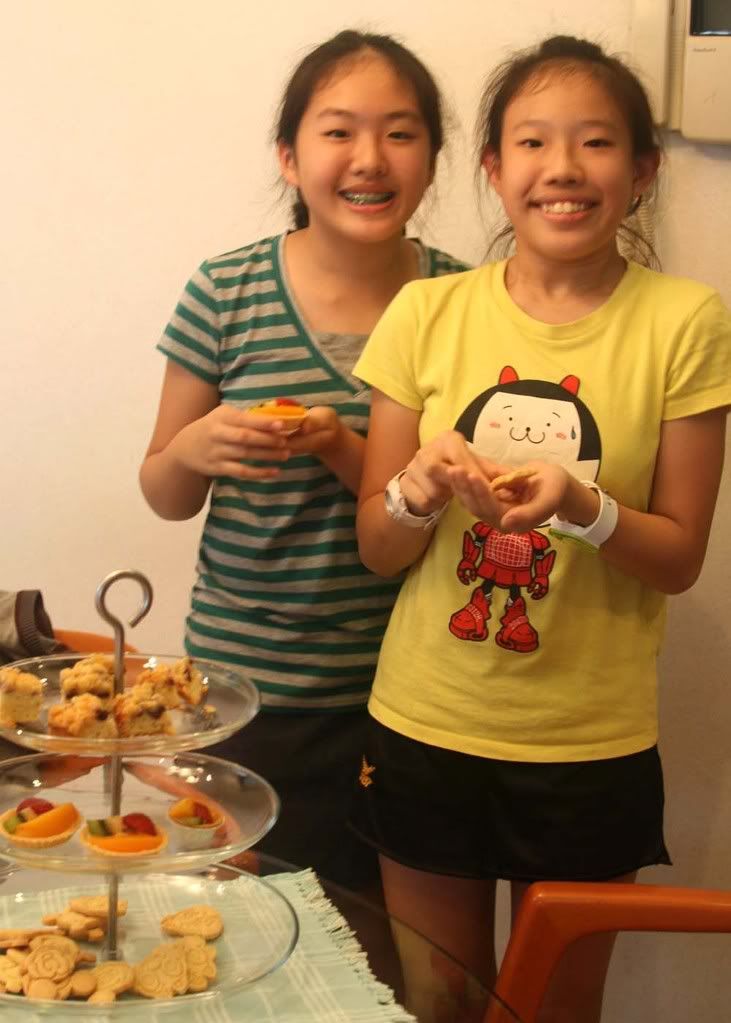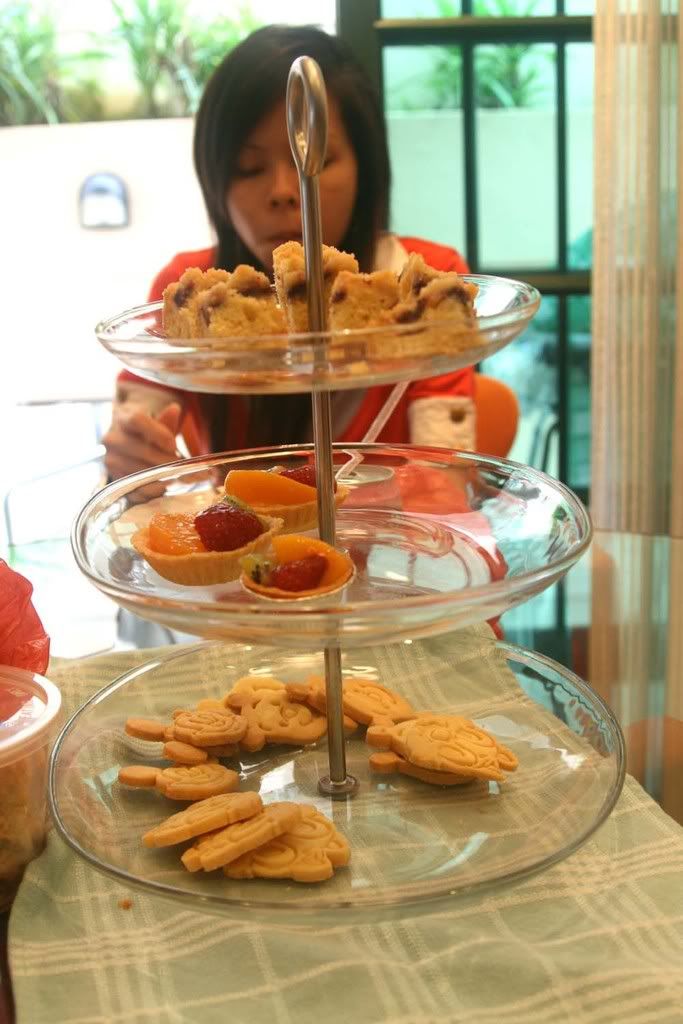 cousins enjoying the bakes
Super super thankful for all their support! (:
I had a MERRY

bake-ful

CHRISTMAS!